Glass Microfiber Cartridges are highly retentive adsorption depth filters designed for removing colloidal & viscous contaminants in vaccines and culture media. The construction is with a high temp PP resin for longer life in elevated temperatures. The borosilicate microfiber media with polypropylene construction provides excellent chemical compatibility and superior flow. Featured by high dirt holding capacity and excellent particle retention ability.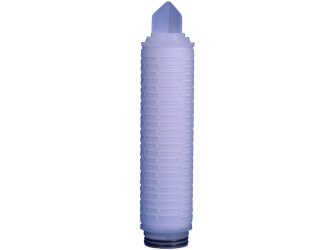 This positive zeta modified glass fiber media used in removal of contaminants such as colloids, lipids, protein aggregates and particles for biopharmaceuticals liquids. These filters can effectively protect the final cartridges to extend the service life. No adhesives or surfactants are used in the manufacturing process. The borosilicate microfiber is "non-fiber releasing."

Sealing technology Thermal Bonding, No Adhesives, binders or surfactants are used in the manufacturing process. Filter cartridges are 100% Integrity tested prior to release ensures consistent performance to specification. Advanced Pleat Technology construction allows maximum fluid and contaminant access to filter surface area for highest throughput. The all-polypropylene construction provides excellent thermal and chemical compatibility with low and high pH chemicals.

Applications
Pharmaceutical
High Viscosity Liquids
Colloidal Liquids
Blood Products
Serum
Wine Clarification
Food & Beverage
Biologics
Bio-Burden Reduction
Retention of Deformable Particles
Inks
Cosmetics
---

Specifications
Materials of Construction
Membrane : Glass Microfiber
Membrane Supports : Polypropylene
Cage, Core, End Caps : Polypropylene
O-Rings : Silicone, EPDM, Viton, Buna etc

Dimensions
Diameter ø68
Length 5 inch, 10 inch, 20 inch, 30 inch, 40 inch

Pore Size
---

Operating Conditions
Maximum Forward Differential Pressure
• 4.2 bar @ 21°C
• 1.5 bar @ 80°C
Filtration Area, ft2
• 4.0 ft2 per 10-inch cartridge

Bio-Safety
Filter effluent is non-pyrogenic as per USP bacterial endotoxin ( <0.25 EU/ ml)



Sterilization & Autoclaving
Steam in Place or Autoclave Sterilization @ 123 °C
Validation Guide available upon request.