Multi-Layer PP Filter Cartridge
Multi-layer Cartridges are designed for the wide range of pre filtration application. Particles retention and reduction of bioburden from liquids as well as gases is ensured through coarse (upstream) to fine (downstream) depth filtration. This family of products is particularly suitable for the fluids that contain high bio-burdens or suspended solids. Filters are ideally used for clarification and pre filtration prior to membrane filtration.
The highly retentive, graded porosity design removes particles in sequence by size - larger particles by the more open outer layers and smaller particles by the tighter inner layers. The outer layers act as a pre-filter while the inner layers provide the absolute rating at a specified pore size. This design efficiently spreads the contaminants throughout the media matrix resulting in superior contaminant holding capacity, lifetime and pressure drop as compared to other media cartridges.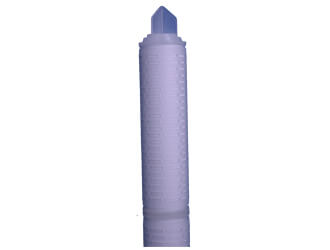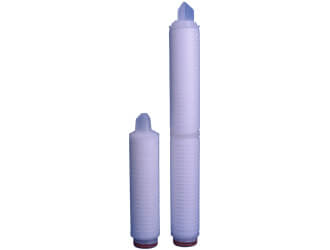 Sealing technology Thermal Bonding, No Adhesives, binders or surfactants are used in the manufacturing process. Furthermore, the all-polypropylene construction provides excellent thermal and chemical compatibility with low and high pH chemicals. All filter cartridges are 100% integrity tested to ensure filter performance.

Applications
Pre-filtration for biologicals
Vaccines
Pre-filtration of SVP & LVP
Cell Culture Medium
Active Pharmaceutical Ingredients
Protein Solution
Plasma Fractionation
Parenterals ( LVP & SVP)
Lyophilized Powder
mAb
WFI
Clarification
Yeast Removal
Fine Chemicals
Beer
Beverages
Pharmaceuticals
Wine
Water
---

Specifications
Materials of Construction
Media : Polypropylene
Media Supports : Polypropylene
Cage, Core, End Caps : Polypropylene
O-Rings : Silicone, EPDM, Fluoro-Elastomer, Viton

Dimensions
Diameter ø68
Length 5 inch, 10 inch, 20 inch, 30 inch,40 inch

Available Ratings : 0.2, 0.5, 1.0, 1.5, 2.5, 4.5, 10, and 20 µm
---

Operating Conditions
Maximum Forward Differential Pressure : 4.2 bar @ 23 °C : 1.5 bar @ 85°C
Effective Filtration Area, ft2 : 3.2 ft2 per 10-inch cartridge

Sterilization
Sterilization & Autoclaving :
Steam in Place or Autoclave Sterilization @ 123 °C