SS Sintered Filters are designed to provide high quality particulate Removal in Process Steam together with high flow rate and dirt holding capacity, thereby allowing long system lifetime and cost effective operation.SS Sintered filters are made from fine SS powder is sintered to form filters in cylindrical shape.

Filter Element
SS Filters are used for Air ( stea / gas) and liquid filtration they have a very fine micron and is suitable for a range of operation.
In steam / gas service, 100% of particles larger than the pore size chosen will be retained by the element. Note that the 1 micron element has an efficiency of 99.7% based on 0.2 micron particles.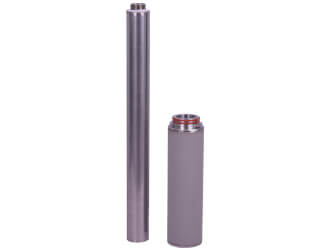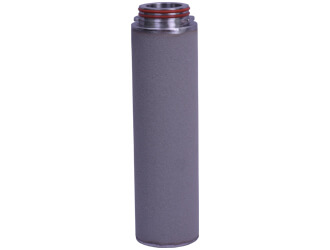 Selecting a pore size smaller than required will result in reduced service life and higher pressure drop. SS Sintered elements can be cleaned by immersion in dilute hydrochloric acid, ultrasonic bath, clean water or air depending on the type of contamination. However, once the pressure drop across the filter (even after cleaning) reaches 0.7 bar the element should be replaced.
Note : We strongly recommend that a spare filter element set is carried in stock.

Features and Benefits
316L Stainless Steel Filter Cartridge
Exceptionally high Flow Rate
High Dirt Holding Capacity
All Welded Construction, NO Leachable
No Migration, Non Fiber Releasing
---

Product Specification
Filtration Media - Sintered Stainless Steel (316L)
End Caps - Stainless Steel (316L)
O-Rings - Silicone / Viton / EPDM
Max Opera Tem - 75OC to +200 OC
Micron Size - 1, 5, 10, 20, 25 Microns
---

Dimension
Diameter - 2.5 Inch
Length - 10, 20, 30 & 40 Inch