Capsule Filter - Tri Clamp
PFP Vacuum Filters are used in filtration of cell culture media, aequos solutions, plasma filtration and other biological fluids. The Unit consist of collecting bottle and flask on the top with filter membrane in the middle, the Membrane and the size of the unit be configured as per ones requirement.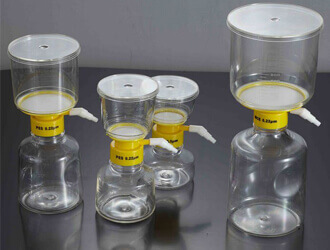 PFP Vacuum filter can be supplied with below membranes and pore size
PVDF - 0.10, ,0.22 & 0.45 Micron
PES - 0.10, ,0.22 & 0.45 Micron
Nylon - 0.10, ,0.22 & 0.45 Micron
MCE - 0.10, ,0.22 & 0.45 Micron
CA - 0.10, ,0.22 & 0.45 Micron

Filter Unit Size
The Unit is well built with ABS (Acrylonitrile butadiene styrene) material for sturdy operations and light weight for easy movements, the hose connection can fit multiple hose diameters. The Units are packed in Easy to peel single bag pack and are gamma sterilized assuring sterile product with easy to use operations.
For Filtration area and diameter please contact us we can also develop custom product as per customer requirements.
Our Filtration area and size is very well at par with Industry standards.