Single Layer Hydrophilic PES Membrane for Bio-burden Reduction
The Highly retentive and porous structure of these sterilizing grade membrane filters provides highly effective filtration by retaining particles and bacteria absolutely, with 100% Retention. PES membrane is inherently hydrophilic and does not require pre-wetting with IPA or flushing with DI water. This eliminates a potential source of contamination and hazardous waste. They provide the finest, most efficient and reliable performance for critical final filtration applications.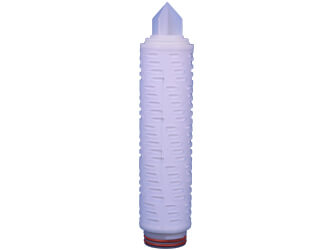 Biological Grade Cartridges are well-suited for critical applications where superior flow, microbial reduction and particle retention at 0.1, 0.2, 0.45, 0.65 and 0.8 micron are needed. The PES membrane also exhibits low protein-binding characteristics. Low protein binding feature makes it suitable for aseptic processing in biopharmaceuticals as well as food & beverages industry. Sealing technology Thermal Bonding, No Adhesives, binders or surfactants are used in the manufacturing process. Filter cartridges are 100% Integrity tested prior to release ensures consistent performance to specification. Advanced Pleat Technology construction allows maximum fluid and contaminant access to filter surface area for highest throughput. The all-polypropylene construction provides excellent thermal and chemical compatibility with low and high pH chemicals.

Applications
Serums & and blood fractions
Biologicals
Chromatography column protection
Orals and topicals
Vaccines
Parenterals (SVP, LVP)
Ophthalmics
Media and fermenter feed streams
Cell culture fl uids
High protein feed streams
Reagents and Buffers
High purity DI water and WFI systems
Bacterial Growth Media
Process Water
Pre-filtration
Pharmaceutical Intermediates
Bulk pharmaceutical chemicals
Liquid
Solvent filtration
---

Specifications
Materials of Construction
Membrane : Hydrophilic PES
Membrane Supports : Polypropylene
Cage, Core, End Caps : Polypropylene
O-Rings : Silicone, EPDM, Viton, Buna etc

Dimensions
Diameter ø68
Length 5 inch, 10 inch, 20 inch, 30 inch, 40 inch

Pore Size
0.1, 0.22, 0.45, 0.65, 0.8, 1.2, 3.0 UM
---

Operating Conditions
Maximum Forward Differential Pressure :
• 4.2 bar @ 23°C
• 1.5 bar @ 80°C
Filtration Area, ft2
• 5.7 ft2 per 10-inch cartridge

Bio-Safety
Filter effluent is non-pyrogenic per USP bacterial endotoxin ( <0.25 EU/ ml)


Sterilization & Autoclaving
Steam in Place or Autoclave Sterilization @ 123 °C
Validation Guide available upon request.