PFP designed and manufactured SS Filter Housings and vessels in accordance with Pharmaceutical GMP requirement and Fabrication Standards. All Designs are customized to meet used requirement.

Typical Application
Water Treatment, RO system
Pharmaceuticals, API, Biologics
Food and Beverage, Wine, Beer, Dairy, Mineral Water
Paints, Inks Plating Solutions
Process Chemicals and Electronics Industry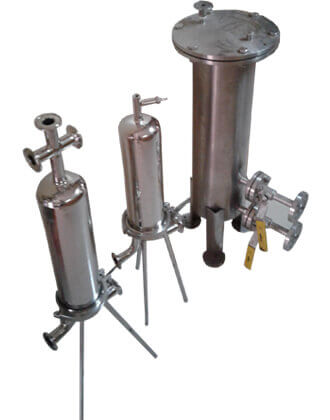 Features and Benefits
Clean-in-Place (CIP) / Steam-in-Place (SIP) Design.
Reduces bacterial / particle adhesion and no dead space.
Excellent corrosion resistance.
Mirror Surface Finish Complete Stainless Steel Construction.
Easy To Install Design With Sanitary Connections, Easy to Clean.
Available in tri-clamp, flanged and thread connections.
Requires minimum floor space and quickly dismantle for easy cleaning.
Housings Accommodate From One (1) to Many 10", 20", 30" or 40" Cartridges.
Suitable for small to large batch sizes and flow rates.
High pressure & high temperature designs are available.

Technical Specs
Material
Housing Stainless Steel 304 and 316L
O-Ring Silicone, Viton, EPDM, etc
Surface Finish Interior/Exterior Electro polished, Ra≤0.2um
Connections
Inlet / Outlet - 1 to 10 Inch as per requirement ( Tri clamp - Flange - Threaded ) Vent ¼" female
Drain 1" male or as your request
Lid / Cover Type : Swing Bolts or Tri Clamp ( only for single round ) or Flange Connection
Designed Pressure : As per Request
Operating Pressure : Max. As per Request
Temperature : As per Request
Cartridge Type : As per customer requirement. ( DOE or any other configuration)
Cartridge Capacity : 1, 3, 5, 8..... 30, 36, 45 round